The Makerspace at Thomas St. Angelo Public Library is a training area and do-it-yourself resource for hands on experiential learning. 
For Youth
Reserve a time to use Cubelet robots
Request to play a game with a VR Headset
Request to use the robot games
Come in anytime to use the Legos and other games.
Take a class!
Adults
Reserve the sewing machine
Reserve the Cricut for your own project
Take a class!
Visit the Makerspace
Reservations are required for a class or to create your own project on the Cricut. To request a reservation: Call (715) 822-2767.
All Makerspace equipment stays in the library, but check out the Library of Things to borrow related equipment.
Cricut
The Cricut is an electronic cutting and drawing machine. Items can be created with material such as paper, cardstock, vinyl, fabric, and more.
What can I do?
Create a personalized mug using the mug press.
Customize book bags using heat transfer vinyl and the Cricut.
View tutorials and step-by-step instructions on

 

Creativebug

 

with your MORE Library Card.
Equipment
Cricut
Sewing machine
Laminator
3D pens
Cubelet robots
VR Headset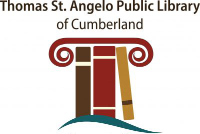 Thomas St. Angelo Public Library
1305 Second Ave.
Cumberland WI, 54829
715-822-2767 | cupl@cumberlandpl.org
Hours
Monday         9:00 am - 7:00 pm
Tuesday         9:00 am - 7:00 pm
Wednesday  9:00 am - 7:00 pm
Thursday      9:00 am - 7:00 pm
Friday            9:00 am - 7:00 pm
Saturday       9:00 am - 1:00 pm
Sunday          CLOSED
Cumberland TSAP 
Library Foundation Inc
The programs that we provide free to the public are paid for by your donations. Your donations are greatly appreciated. Thank You!